Photography Retreat – Face to Face
•  30 July – 06 August 2023
Daintree 2023 is an eight day contemporary photography workshop for anyone who is wondering 'how do I get to the next level'? That is, how do I progress beyond merely beautiful images and prints, beyond the mastery of camera craft and production skills, workflows, clients, and competitions to develop and infuse my work with more meaning, significance and purpose?
This is no easy task, and there are many prerequisites: we need time and space away from the hurly-burly distractions of everyday life. We need an unbelievably beautiful and inspiring location that only asks the best of us. We need state-of-the-art teaching and research facilities that won't let us down. And we need incredibly experienced teachers and mentors who not only work 'at that next level', but also possess the empathy, compassion, understanding and intellectual frameworks needed to facilitate your journey 'to the other side'. These are rarely found qualities, but at Daintree 2023, we supply them in abundance. Read More
My co-presenters are my dear friend and ND5 collaborator Christian Fletcher, my son, business partner and RMIT School of Art lecturer Andrey Walkling, and Nth Queensland landscape photographer and conservationist Steven Nowakowski.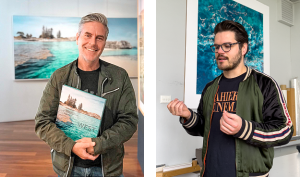 The Venue:
The venue is James Cook University's world class Daintree Rainforest Observatory (DRO) education and research centre at Cape Tribulation in far North Queensland. It is adjacent to Australia's World Heritage listed wet tropics lowland rainforests which are home to a substantial proportion of Australia's biodiversity. This is also one of the few areas in the world where the 'reef meets the rainforest' and the only place where two World Heritage Areas sit side by side.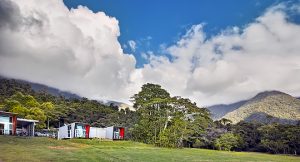 Looking North from the DRO towards Mt Sorrow
The modern teaching and conference facilities are designed with student-centred learning and inquiry-focused practice in mind. The open design and flexible spaces create many vistas where one can look up to rainforest-clad mountains or down over sweeping views to the Coral Sea. With brand new accommodation and catering infrastructure, well-equipped laboratories and a tower crane providing canopy access to nearly 1 hectare of rainforest, the DRO provides an unforgettable hands-on experience in a unique and inspirational environment.
The Syllabus:
The workshop begins with a thorough analysis of your individual workflow which we then refine and polish from capture to print. This ensures your workflow is 'working' so well that you are not distracted by it. We can then focus on 'what comes next' – and how to take your photography there.
Guidance, inspiration and support will flow from the history of photography, painting, sculpture, music, literature and philosophy, as we form a deeper understanding of how pictures capture 'hearts and minds' while trading in 'secrets and mysteries' beyond our immediate understanding. We will learn from other artists and their production methods, artist statements, finished works of art, historical circumstances and what is required in order to convey significant and lasting impressions, not just through your pictures, but also to your artistic confidence.
DRO Education Centre Exterior
Facilitation:
You will photograph in pristine environments, process and edit your files with fully colour managed professional workflows, and make prints of the highest quality with the most beautiful papers and profiles available. Our chefs and support staff will take care of everything else, so all you have to work on is refining and extending your photography, and thereby change not only your relationship to your 'hardware and software', but even more significantly, take your pictures and yourself to that 'next level and beyond'.
Highlights of the workshop include formal presentations, small group tutorials, extensive one to one consultations and opportunities to practice and consolidate what you learn in a supportive and supervised environment.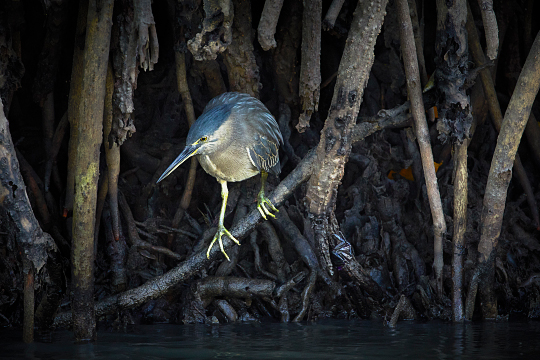 Mike Langford, Striated Heron, Daintree 2018
This is an ambitious workshop that I couldn't imagine presenting without my 30 years' experience of doing this day in and day out for generations of undergraduate and postgraduate fine art and media arts students. I also couldn't imagine doing this without over a decade's experience running our annual Orpheus Island residential workshop. And I certainly couldn't imagine doing this without the incredible talent and support of our co-presenters, tutors, organisers, sponsors and friends who have encouraged me to dedicate a workshop to 'going to the next level and beyond'.
And this is that workshop.
The Cost:
AUS $4980
The cost includes share accommodation and all meals at the DRO, all photographic materials, plus coach transport to and from Cairns. The only additional costs are travel to Cairns and possible overnight accommodation in Cairns depending on your flight times and /or other travel arrangements. There is also a small fee if you wish to use the DRO crane to access the rainforest canopy with sweeping views over the Daintree National Park, Mt Sorrow, Cape Tribulation and the Coral Sea.
Private off-site accommodation in a beach house or hotel/resort is available for those not wishing to stay in the DRO's dormitory style accommodation. Price per off-site room for 7 nights is $1450.
For an in-depth account of the workshop, please download our Detailed Overview.
And don't hesitate to contact us if you have further questions or expressions of interest: Email Events or Phone +61 418 980 644
This event has sold out. Please contact us if you'd like to be added to our wait list. Thank you.
Updated 30 January 2023